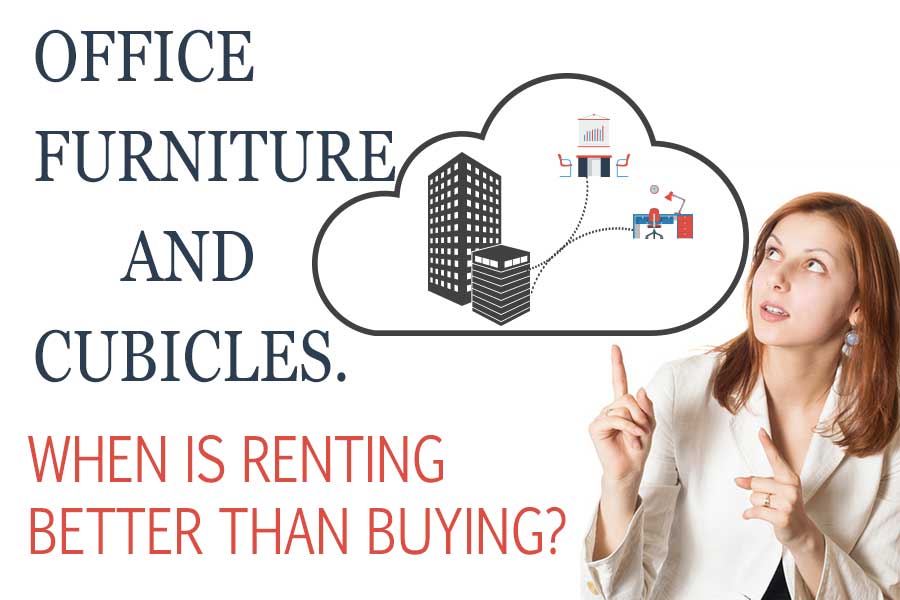 Cubicles And Office Furniture Rentals: When Is Renting Better Than Buying?
Business is booming and so are office furniture and cubicle rentals in Houston. Have you noticed the scaffolding filling our skyline as you travel around Sam Houston Parkway or West on Katy Freeway? Typically, a boom brings excitement, construction jobs, office jobs, and is fantastic for the economy. But for the facilities' manager or business owner, fast growth, crazy demand and construction shortages mean space planning headaches which require quick temporary solutions. Here are the top three Houston office problems where office furniture rentals are providing real solutions.
1. Must create more work space now.
Rapid growth is a double-edged sword. It makes it so much easier to meet budgetary demands, however, it requires some quick-thinking on your part to accommodate those new employees showing up, as well as, the additional customers, for on-site meetings. Renting office furniture such as cubicles, desks, chairs or conference tables, will enable you to put those new employees to work right away while you plan your expansion. ROSI can help you reconfigure and create additional space to hold you over until you're ready to move.
2. Need to set up a quick satellite office.
Entering a new marketing is tough enough without the hassle of a high-demand office space market and finding what you need. According to Coy Davidson, Senior Vice President at Colliers International, Central Business District Class A and B office space availability has decreased again in the second quarter of 2014. This continuing trend may demand some out-of-the-box thinking. The space available may not be right, but it has to be for right now. If you want your temporary satellite office up and running quickly, rental furniture is a great solution. You don't need to make all the detailed decisions necessary when purchasing office cubicles and furniture or casegoods. Instead, you can simply rent 4-pack, 6-pack or 8-pack cubicle systems along with a reception desk and you're ready to open for business. Private office desks, task and reception chairs, plus conference tables may be rented as well to give the office a put-together and professional look.
3. Your new facility is not ready.
With so many new construction projects in the Houston area, contractors and subcontractors have become much more selective on projects, according to the recent Kirksey Architecture "Construction Cost Update 2014." This means you may need to rent out temporary space in order to meet immediate and interim office work space requirements. Office furniture rentals in the Houston area are a common solution to this frequent problem. If your business is bursting at the seams while awaiting your new facility completion, you can bet it's creating productivity issues. Bringing in full-service office space planning and office cubicle/furniture business like ROSI to help configure and plan the temporary space, will provide the facilities manager or business owner needed support during the transition. ROSI's furniture rentals will get you through the initial phase while ROSI works with you on a space plan, cubicle and furniture selections for the permanent space.
Office furniture rentals in Houston create a quick and temporary solution with little investment. ROSI offers flexible rental period options to help control costs and conserve cash. Renting gives companies the flexibility to react to the ever-changing and challenging office real estate market. Contact ROSI for details on rental solutions and pricing.
[youtube_video] https://www.youtube.com/watch?v=PEPfgOC66l0 [/youtube_video]