Finding a Great Value on Office Furniture for Your Business in Houston, TX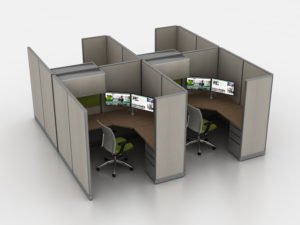 Has the time come to replace your business' outdated or damaged office furniture? Are you starting a new business or relocating your operations in Houston, Texas, and need to furnish the entire space? Trying to determine how to furnish your office in a way that works with your business' needs and budget can be a daunting task. Here are some factors you should consider to make the process easier:
New VS Used Office Furniture
If you have a limited budget, you may think that purchasing used office furniture is the best option. However, there are some drawbacks to this. Preowned furniture may have wear or even damage, so any upfront savings may be eliminated by repair and replacement costs. What's more, you're unlikely to receive strong warranties for used furniture and your selection may be limited.
Choosing the Right Office Furniture Company
It is important to find an office furniture company that offers an extensive selection as well as custom solutions instead of cookie-cutter services. The best companies will have experts who will consult with you to determine how best to meet your business' needs without exceeding your budget. Additionally, finding a company that offers complimentary services, such as space-planning, delivery, and installation can further reduce your costs.
Choose ROSI Office Systems Inc.
At ROSI, we take pride in being our clients' workspace consultants – not simply their office furniture dealers. We'll guide you through every step of the process – from discovery through installation – to ensure your office is furnished according to your requirements and budget. We offer an incredible selection of products from industry leaders, such as Mayline, Cherryman, and ESI, to ensure quality while also offering highly competitive prices. And, we even manufacture our own lines of new and remanufactured cubicles that can be customized to your specific needs.
Contact ROSI Office Systems Inc. today to learn more about what makes us the premier office furniture store and provider in Houston, TX.