How to Get a Great Deal on Office Furniture for Your Business in Austin, TX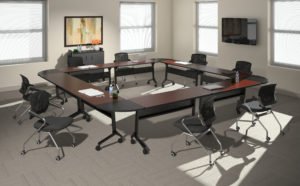 Purchasing office furniture is a major expense – especially if you need to furnish an entire office in Austin, Texas. It can also be a stressful process, as you'll need to choose from a nearly endless variety of products. Plus, it isn't always easy to find the right products while also sticking to your budget. To ensure you receive an excellent value, be sure to:
Choose the Right Products
To save money, many businesses will turn to used office furniture. However, this doesn't always pay off in the long run. Preowned furniture will often need to be repaired or replaced more quickly than new products. Typically, it's best to find competitive prices on new products with strong warranties. Choosing new office furniture from trusted names will also ensure that you'll have an extensive selection to choose from.
Choose the Right Company
Partnering with a company that offers a variety of services in addition to office furniture will enhance the value you receive for your project. For example, the best companies will work with you and make recommendations based on your unique requirements and budget. This will remove a lot of the stress from the process and help to ensure you are satisfied with the results.
Partner with ROSI Office Systems Inc.
ROSI Office Systems Inc. is proud to offer comprehensive office furniture solutions to businesses of all sizes. When you work with us, we'll serve as your one-stop-shop, providing all of the top-quality products and custom services you need to create the ideal office setup.
If you'd like to learn more about the benefits of purchasing office furniture for your business in Austin, TX, from ROSI Office Systems Inc., contact us today.
How We Help Businesses in Austin, TX, Choose the Right Office Furniture
At ROSI, we pride ourselves on providing our clients in Austin, Texas, with flexible solutions to their office furniture needs. We offer an enormous selection of top-quality, cost-competitive products from some of the industry's most trusted manufacturers, including Mayline, Cherryman, Global Furniture, and others. You can turn to us for:
Desks
Ergonomic seating
Benching systems
Conference room furniture
Storage systems
And much more
What's more, all of the office furniture that we offer is available in many different sizes, styles, colors, and more. And, ROSI's team of furniture experts will guide your through each step of the process, helping you to make a selection that best suits your business's needs, budget, and branding.
Cubicles from ROSI
ROSI manufactures our own lines of workstations, allowing us to provide truly custom solutions. Our new cubicles – called Synergy – are built with premium materials and are perfect for modern offices. We also offer remanufactured workstations – called REcube – that are indistinguishable from brand-new cubicles. However, they cost 30 to 50 percent less.
Both of our cubicle lines can be tailored to meet your business's needs. Choose from:
Workstation sizes
Panel heights
Fabric and trim colors
Storage options
And more
Learn more about how ROSI Office Systems Inc. helps businesses in Austin, TX, find the ideal office furniture for their workspaces by contacting us today. When you do, make sure to ask about the comprehensive services that we offer, including space planning, installation, and data cabling.