See Our Latest Video

Office Cubicles, Office Desks, Conference Room Tables, Office Chairs, and Other Furniture Available to Businesses in Houston, TX, and the Surrounding Area from ROSI Office Systems Inc.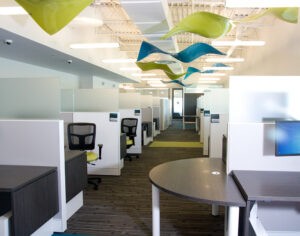 Since 1993, ROSI Office Systems Inc. has served as a leading provider of high-quality, low-cost office furniture solutions for businesses in Houston, Texas, and surrounding cities that are expanding, upgrading, and/or moving. We offer all of the furnishings that might be needed to outfit an office space, including new and remanufactured office cubicles, conference room tables, office chairs, file cabinets and other storage solutions, and more. However, we go above and beyond what typical contract furniture companies deliver, offering our clients comprehensive workspace solutions that perfectly suit their unique needs. Our workspace consultants work closely with our clients, becoming their trusted advisors and guiding them through the discovery, design, specification, delivery, and installation process.
At ROSI, we are proud to have developed the finest solutions for one of the most common furniture needs of businesses in Houston, TX – office workstations. We offer both new workstations as well as premium remanufactured cubicles to suit the requirements and budgets of our clients. Our new office cubicles, which are for sale under our own brand Synergy, are manufactured to the highest standards and have a highly modern look that will upgrade the appearance of any office. Our remanufactured office cubicles, called REcube, are built from the shell of highly durable Haworth workstations. Unlike traditional refurbished workstations, which are simply cleaned and re-sold, our process involves meticulously stripping each cubicle down to its 100 percent steel frame and completely rebuilding it in our own workshop. The resulting products look and perform like new, but cost 30-50 percent less than similar new office workstations. We also offer numerous customization options, such as several partition heights, materials, panel fabrics, and more, for both our Synergy and REcube products lines, enabling our clients to construct office cubicles that perfectly satisfy their needs and specific aesthetic preferences.
No matter the size and scope of your office furniture requirements, you can rest assured that ROSI has the ideal solution. In addition to common office necessities, we offer specialized ergonomic products, including monitor arms and sit and stand desks. And, whether you require hundreds of office workstations or just a small number of office desks and ergonomic office chairs, we'll provide individualized service. For example, we offer complimentary space planning which includes 2D, 3D, and photo-realistic renderings for all of our clients, helping them make the most of their floorplans.
Office Furniture Reconfiguration, Office Furniture Rental, and Other Essential Services for Businesses in Houston, TX, and Throughout the Surrounding Area
In addition to selling top-quality office workstations and other furniture, ROSI is the go-to source for businesses in Houston, Texas, and surrounding cities that require virtually any service related to furniture and workspace planning. If, for instance, you'd like to have a new office layout designed because you're moving or you simply want more usable space in your existing location, our team of trained and certified installers can draw up plans and handle the entire office furniture reconfiguration process. We can also spruce up your office and prevent you from having to spend money on new furniture by modernizing your old, outdated furnishings through our Trash to Treasure Program. Or, if the time has come to sell off or decommission your office's assets, we can serve as your office furniture liquidators.
What's more, ROSI provides office furniture rental solutions that are convenient and flexible. Whether you need to briefly rent a few conference room tables for an upcoming special event, or dozens of workstations and office chairs for a longer period at a temporary worksite, you can turn to us for competitive pricing on all of the furniture you'll need as well as prompt delivery, installation, and removal services.
For businesses in Houston, TX, and surrounding cities, ROSI Office Systems Inc. is the best company to turn to for flexible, comprehensive, and affordable solutions to their office furniture and space planning needs. To learn more about how we can help your business, contact us today.