Movable Walls for Businesses in Houston, TX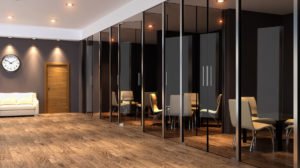 In the past, when businesses in Houston, Texas, wanted to reconfigure their office space, it required the construction of drywall. Not only is this a messy process that involves days of interruption, but it is also costly. Perhaps worst of all, drywall is an inflexible solution. After all, what if you need to reconfigure your space again in the near future? At ROSI Office Systems Inc., we're proud to offer movable walls that are superior to drywall in nearly every way. Demountable walls are:
Cost Effective
Movable walls are easier to install than drywall and no construction is needed, which reduces labor costs. Additionally, when you want to reconfigure your office, you won't need to pay for additional materials, as the walls are 100 percent recyclable. And, having these walls installed can even provide tax advantages and can contribute to LEED certification.
Flexible
With movable walls, you can rearrange your office layout as often as you'd like. If, for example, you need to accommodate seasonal workers, demountable walls are the ideal solution. They can even be installed over any type of flooring, including carpet, without causing damage.
Functional
The movable walls ROSI offers come in a variety of materials to suit your unique needs. If you're looking to cultivate a sleek, light-filled space, then our glass partitions are perfect. Or, if you'd like a more utilitarian option, we offer walls coated in writable surfaces.
Contact ROSI Office Systems Inc. today to learn more about the benefits of having movable walls installed in your Houston, TX, office.