The Best Source for Office Furniture Systems in San Antonio, TX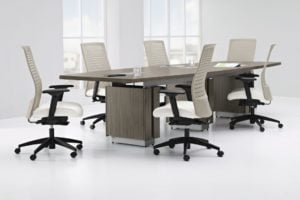 Finding the right company to supply your business in San Antonio, Texas, with office furniture systems can be a frustrating process. After all, furnishing an entire office is a major undertaking and investment. You want to be sure that the company you choose not only offers a wide variety of high-quality products to meet your needs, but that they'll also help you throughout the process, providing all the services you need to fully furnish your office. At ROSI Office Systems Inc., we have been doing exactly that for businesses of all types and sizes since 1993.
Complete Workspace Solutions
ROSI offers a huge selection of office furniture systems to suit the needs and budgets of virtually any business. We ensure all of our products are top-notch, working with only trusted manufacturers such as Global Furniture and Cherryman. We even provide our own lines of cubicles, including our new line of Synergy products and our heavily discounted remanufactured REcube workstations.
However, ROSI goes beyond simply supplying our clients with premium office furniture. In fact, we are a one-stop shop that can provide everything from liquidation of old furniture to space planning to delivery and installation. As your workspace consultants, we'll guide you through every step of the process, ensuring you are completely satisfied with the results.
To learn more about the office furniture systems and service that ROSI Office Systems Inc. provides to businesses in San Antonio, TX, contact us today.