Cubicle Systems in a Variety of Sizes for Businesses in Austin, TX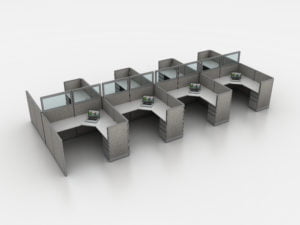 Are you running out of space in your office in Austin, Texas, and having difficulty figuring out how to accommodate new employees? Is your business downsizing in order to save money on office space? Is your office floorplan simply cluttered and not meeting your needs? At ROSI Office Systems Inc., we offer comprehensive solutions to these problems by providing top-of-the-line cubicle systems in custom sizes along with valuable workspace services.
ROSI is Your Full-Service Workspace Consultant
Since 1993, ROSI has been committed to providing tailored solutions to meet the unique needs of our clients. One of the ways we achieve this is by providing our own lines of new and remanufactured cubicles. These workstations are made from premium materials and our remanufactured line – called REcube – offer incredible savings of 30 to 50 percent off the cost of new. Additionally, there's a vast selection of customization options available including configurations, panel heights, fabric and trim colors, storage solutions, work surface materials, and more. This, in addition to our many options for cubicles sizes, makes it easy for businesses to maximize the efficiency of their office layouts.
As your workspace consultant, ROSI will also provide a variety of services to ensure you get the best value for your investment. For example, we provide complimentary space-planning services with any cubicle purchase, which includes photorealistic and 3D renderings, so you can visualize what your office setup will look like before committing to an arrangement.
Contact ROSI Office Systems Inc. today to learn more about how our custom cubicle sizes can help you get more from your office in Austin, TX.