Choose from Numerous Cubicle Sizes for Your Office in San Antonio, TX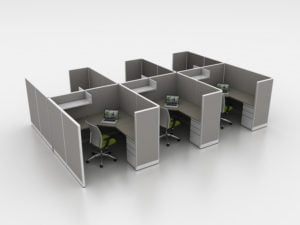 Choosing among the many available cubicle sizes when furnishing your office in San Antonio, Texas, can be a difficult process. You want to ensure that your employees have plenty of room to work comfortably and remain productive. However, with office space coming at a premium, it's also important to use your office space efficiently. Fortunately, you can turn to ROSI Office Systems Inc. for workspace solutions that are tailored to your precise needs.
Custom Workstations from ROSI
When you turn to ROSI for cubicles, you'll have a wide range of customization options. For example, you can choose from a variety of partition heights, work surface materials, storage options, fabric colors and more. Most importantly, we offer custom cubicle sizes to accommodate nearly any office space. We can even provide benching systems, which allows for the maximum number of employees per square foot to work comfortably.
Incredible Customer Service
At ROSI, what truly sets us apart is our service. We're more than a furniture dealer, we're workspace consultants who go above and beyond to ensure our clients get exactly what they need for their businesses at a price they can afford. For example, if you're looking to save money on your workstations, we offer our own line of remanufactured products – called REcube – that look and function as if brand new, but cost 30 to 50 percent less. Additionally, we offer free-space planning services with any workstation purchase, helping you to create an efficient and flexible floorplan.
To learn more about the cubicle sizes and other customization options that are available to your San Antonio, TX, business when you turn to ROSI Office Systems Inc., contact us today.