Top-of-the-Line Cubicle Workstations and Comprehensive Workspace Solutions for San Antonio, TX, Businesses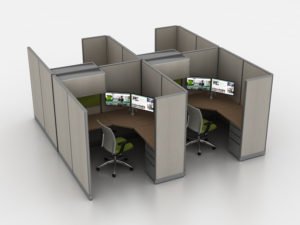 If you're in the market for cubicle workstations for your office in San Antonio, Texas, you've likely noticed how many options there are to choose from. In fact, the sheer number of cubicles available can make it difficult to determine which is best for your office and how to get the best value for your investment. Fortunately, ROSI Office Systems Inc. can make the process as easy as possible for you. Since 1993, we have been a leading cubicle dealer and workspace consultant providing tailored solutions and comprehensive service.
What to Expect When You Turn to ROSI
At ROSI, we're able to meet the unique needs of our clients by providing custom cubicle workstations. Some of the options available include sizes, partition and work surface heights, storage systems, and fabric and trim colors. This allows businesses to create an office setup that matches their workflow and the needs of their employees. However, that's only one of the ways ROSI maximizes the value for our client's investments. We also offer our own lines of top-quality cubicles, including brand-new Synergy workstations and our REcube remanufactured cubicles, which provide savings of 30 to 50 percent despite looking and functioning as if they just rolled off the factory floor.
Additionally, whether you purchase a single cubicle from us or several hundred, we'll provide free space-planning services to ensure you're getting the most from your office's floorplan. We'll create 3D and photorealistic renderings, so you can easily visualize the setup and make adjustments before we deliver and install your workstations.
Learn more about why ROSI Office Systems Inc. is the best company to turn to for cubicle workstations in San Antonio, TX. Contact us today.