Office Furniture Liquidators Serving Businesses in Houston, TX, and the Surrounding Areas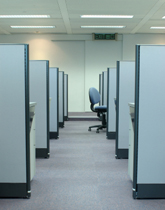 If you're looking for office furniture liquidators that you can trust to provide timely and reliable service in Houston, Texas, then the company to call is ROSI Office Systems Inc. We will provide your businesses with an accurate, upfront assessment of your furniture's value. From there, we will either provide you with a quote for our liquidation service or an offer to purchase your furniture for resale.
Some of the benefits of working with ROSI instead of other liquidators in the Houston, TX, area include:
We have served businesses since 1993 and have earned a reputation for trust, so you can rest assured we'll provide an honest assessment of your furniture as well as outstanding service.
We will provide our liquidation service in a timely manner, helping you to vacate your space or get more cash on hand as quickly as possible.
We also offer office decommissioning services. If you're vacating your office, we can help revert it to its original condition to prevent you from violating lease agreements.
In addition to serving as the regions premier office furniture liquidators, ROSI can provide many other services. For example, if you have furniture that you'd like to store instead of liquidate, we can provide asset management at our 20,000 square ft. warehouse. We also specialize in workspace planning and furniture reconfiguration and can help optimize your office's floorplan.
To learn more about our services and the advantages of choosing us over other office furniture liquidators, contact ROSI Office Systems Inc. today. We are proud to serve businesses of all sizes in Houston, TX.