Sit Stand Desk Products for Offices in Austin, TX, from ROSI Office Systems Inc.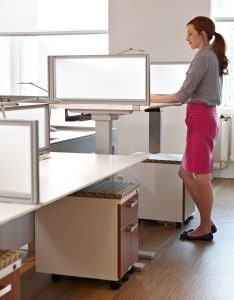 Sit stand desk products are becoming more and more common in offices in Austin, Texas, and the surrounding areas. For employees, these ergonomic products help them to feel more energized at work and to avoid pain and stiffness in their backs and necks. And, many employers are finding sit stand desks to be a smart investment because workers are more productive throughout the day.
Business owners interested in purchasing sit stand desks for the employees of their business in Austin, TX, should turn to ROSI Office Systems Inc. We have been a leading office furniture dealer since 1993 because we provide our clients with the greatest value for their purchases by only offering the finest quality furnishings at highly competitive prices. Our sit stand desk products, for example, come from trusted manufacturers, such as:
ESI
Mayline
Global Furniture
In addition to our adjustable height desks, ROSI offers a wide array of other ergonomic office furniture to keep your employees healthy and productive. For example, we provide monitor arms that allow employees to adjust the height and orientation of their computer monitors and even treadmill desks that allow them to walk as they work.
What's more, you can turn to ROSI for all of your office furniture needs. From new and remanufactured workstations to casegoods and conference tables, we are truly a one-stop shop. Plus, we offer a variety of services, including furniture rental and storage.
If you'd like to learn more about the furniture we offer, including ergonomic furniture such as sit stand desk products, contact us today. We're proud to service businesses in Austin, TX, and the surrounding areas.