Finding the Right Workstations for Your Office in Austin, TX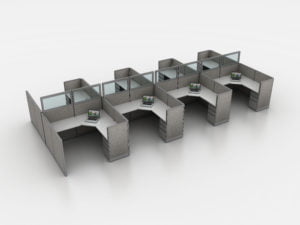 There's a good reason why workstations are among the most popular office furniture solutions for businesses in Austin, Texas. Cubicles encourage a collaborative environment and provide employees with the privacy that they require to be productive while allowing businesses to maximize the efficiency of their floor space. If you've decided that workstations are the right choice for your office, then you might be surprised to learn that there is a virtually endless list of options for you to choose from. For example, should you buy used or new? What about size and configuration? Fortunately, the experts at ROSI Office Systems Inc. are here to help you select the perfect cubicles for your office.
ROSI's Workstations
At ROSI, we provide cubicle systems that are tailored to our client's needs – not cookie cutter solutions. We manufacture our own lines of workstations. For example, if you decide new cubicles are the right choice for your business, then our Synergy line is for you. Made from premium materials, these cubicle systems feature a modern appearance that is suited to any office.
Additionally, we offer remanufactured cubicles – our REcube line. These workstations are completely rebuilt from the frames of preowned Haworth cubicles and include all new work surfaces, panels, fabric, trim, and more. They look and function as if they just rolled off the factory floor, but they provide savings of up to 30 to 50 percent.
Customization Options
Because we manufacture our own workstations, we can build your products to order. This means that you'll get to choose the features that work for your business. Options include:
Panel heights
Cubicle sizes
Work surface materials
Trim and fabric colors
Storage options
And more
Contact ROSI Office Systems Inc. today to learn more about why we are the leading provider of workstations for businesses in Austin, TX.