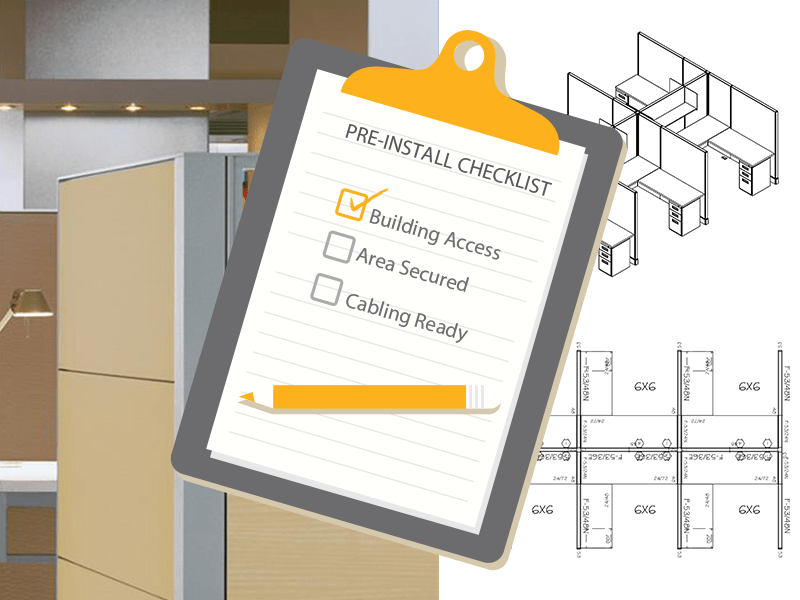 Ready For Your Cubicle Installation? Here's A Checklist
Your new office planning is finally finished and the project has graduated to the cubicle install phase. Congratulations! But, before ROSI arrives to set up your cubicles, take a minute to run through this "Install Checklist." With all the boxes checked, ROSI will quickly deliver and set up your cubicles so down-time is minimized and business is up-and-running. If you need any assistance checking these boxes, let us know and ROSI will help.
Cubicle Installation Checklist
1. Access to Building and Office.
Get authorization from building management for loading and unloading. For your convenience, ROSI offers flexible cubicle installation options:
Delivery during or after business hours
Set-up during or after business hours
Cubicles in Houston typically involve high-rise buildings. If your cubicle installation requires elevator access, be sure the elevator is reserved.
2. Protect Flooring and Walls during cubicle installation.
Building management may require that you protect all flooring and walls during the loading process. If so, ROSI can provide flooring and wall protection with proper notification prior to the Houston area cubicle installation.
3. Clear the cubicle installation area completely.
Remove old furniture including file cabinets, chairs and loose items. If items are left behind, it will cause a delay and additional labor costs.
Secure the cubicle installation zone.
The area should be treated as a construction zone with proper safety precautions, so as to avoid any accidental injuries to your employees.
4. Data and voice cabling should be laid out.
If ROSI installed your structured cabling, this step can be marked as "complete." If not, the cabling should be laid out so ROSI can build into the cubicle installation. Without this very important step, ROSI simply cannot proceed with the cubicle installation.
ROSI has installed cubicles in the Greater Houston Area for over 20 years. We understand that time can slip away, and an item on this checklist may be forgotten. That's why ROSI offers "last-minute" help with teardown of old cubicles, moving, and storage. Simply contact ROSI at least one week prior to your installation date, and we'll provide prices and assistance to get you prepared. We'll organize all the details to be sure the process runs smoothly and efficiently.