Revolution Slider Error: Slider with alias used-cubicles-houston not found.
Maybe you mean: 'slider1' or 'office-houston'
Houston's Easy, Quick, & Affordable Cubicle Source Since 1993
Save more and get more with our used and remanufactured cubicles in Houston. Our selection and service is tailored perfect to help companies get the best system for their needs and budget.
We want to hear from you! Contact our team for a FREE no-hassle consultation about your project.
Visit Our Used Cubicle Showroom in Houston!
Located in Stafford, the ROSI cubicle systems showroom and manufacturing facility is only 5 minutes from Beltway 8 and 59 South and 15 minutes from the Galleria.
Address:
10129 Stafford Centre Drive
Stafford, TX 77477
Phone:
(281)403-4477
[tabgroup] [tab title="Buying Process" id="t1″]
Buying Used Cubicles Has Never Been Easier!
Whether you're buying 5 cubicles or 50, our comprehensive scoping and design process guarantees your used cubicles Houston will meet your every need and expectation.
Want to learn more about our easy 5 step process? Click the "Needs Analysis" tab above to get started!
[/tab][tab title="1. Needs Analysis" id="t2″]
Step 1. Defining Your New Space
It all starts with a conversation. Using our 35-point checklist, we'll establish a baseline for the "who", "what", "where", and "when" type of questions about your new space.
This information will help us accurately make a decision as to which of the many cubicle systems we offer will work best for your application.
[/tab]
[tab title="2. Selection" id="t3″]
Step 2. Select Options & Accessories
Once you have decided on a cubicle system, it's time to configure the many options and accessories. If you're system includes cubicles for different types of employees, these options will be customized for each role.
Some of the options you will need to consider include wall panel heights, fabric colors, finishes, power and data requirements, storage options, ergonomic accessories, and more.
[/tab]
[tab title="3. Design" id="t4″]
Step 3. Render Your Space
Time to create a life-like 3D rendering of your new space. We'll even include the colors and finishes you choose, in a room that matches your floorplan!
Our designers are experts in creating layouts that maximize productivity, collaboration, privacy, or whatever the objectives may be for your application.[/tab]
[tab title="4. Review" id="t5″]
Step 4. Review Proposal and Purchase
We know choosing a cubicle system (and vendor) is a major decision, so we'll provide you with a comprehensive proposal (including renderings) of your space that you can review with your partners.
Our system lets us make adjustments to your design quickly – if you want to make any changes or have any "what if" questions, just let us know!
[/tab]
[tab title="5. Installation" id="t6″]
Step 5. Schedule Your Installation
Our professional crew installs your new cubicle system from start to finish. Quality control check points ensure safety and satisfaction.
If your used cubicle system will be installed in a building currently in use, ask about our after-hours or weekend installation options to minimize disruptions to workers.
[/tab]
[/tabgroup]
Cubicle 101
Never purchased cubicles before? The articles in this section will teach you the basic cubicle system "lingo" and help you make decisions easier during the design stage.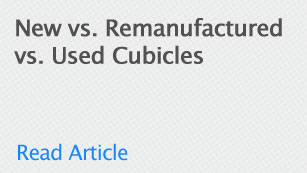 What's Best For Your Company?
Learn about the differences between new, remanufactured, and "as-is" used cubicles Houston.
Houston's Used Cubicle Experts Since 1993
You can trust our expert team to help you from start to finish. We have provided the Houston business community with used cubicle system sales and support from our Houston office and manufacturing location since 1993.
Competitive pricing and consultative selling and design process
Timely delivery and installation to your office in Houston
Complimentary office space planning for most cubicle systems
Used Office Cubicle Inventory
ROSI offers a wide selection of office furniture and used cubicles Houston TX and surrounding areas for new or expanding companies of any size.Look no further to purchase high-quality used Haworth, Steelcase, Friant cubicles, and many others.
Largest selection of preowned and remanufactured used cubicles Houston and office furniture inventory in Houston. We carry a wide array of standard workstation cubicles, private cubicles for managers, bench-type cubicles for call centers, collaborative cubicle spaces for teamwork, and many more configurations.
Buy Used Cubicles and Save 50-70%
Pre-owned high-quality office furniture by the brands you trust, without the high price tag. Brands like Global, Offices To Go, Steelcase, Friant, Humanscale, Cherrryman, and more at prices you won't believe.
Houston's Preferred Cubicle Supplier Since 1993
Give us a chance to make you one of our satisfied customers. If you are in the market for office cubicles in the Houston area, but don't want to break the bank, we're confident you will get the help you deserve and guidance you need from designing to installing your cubicles. We have a solution for everyone, and even a cubicle/office furniture rental program in place for clients who have short term projects.
Houston's Used Cubicle System Design Experts
Our talented space planners are here to help your used cubicles Houston project match your company's (and it's employees) office furniture requirements. We use the latest modeling software so you will get to visually see your office space layout before you buy! Best of all – space planning is included for free with all cubicle system purchases with at least 5 workstations.
You may also be interested in the following:
Call Center Cubicles
Telemarketing Cubicles
Workstation Cubicles
Refurbished and Recycled Cubicles
Need more info? Tell us about your project.
[button color=green size=large link=/free-consultation]Schedule a FREE Consultation[/button]
ROSI Office Systems Inc.
ROSI has provided high-quality low-cost new, remanufactured, and used cubicle solutions and services to Houston businesses since 1993. We have the products and technical experience you need for your office upgrades and expansions. Come visit our cubicle and office furniture showroom and chat with our workplace designers about your office furniture project.
10129 Stafford Centre Dr.
Stafford, TX 77477