Choosing the Right Workstations for Your Office in Houston, TX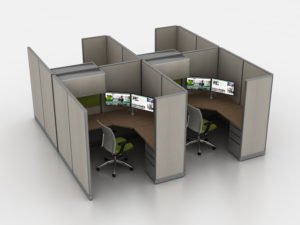 ROSI Office Systems Inc. is proud to be the leading provider of office workstations for businesses in the Houston, TX, area. We're able to provide completely custom solutions, as we manufacture our own product lines. These include our brand-new Synergy cubicles, as well as our REcube line of remanufactured cubicles that are built with all new components and offer savings of up to 30 to 50 percent.
Workstation Solutions Tailored to Your Needs
In addition to providing both new and remanufactured workstations, ROSI builds each cubicle to order, allowing for a wide array of customization options. Our team of experts will work with you and make recommendations based on factors such as:
Your employees' needs
Your available floor space
Your budget
Your business's branding
And more
Once we have an in-depth understanding of your business's needs, we'll make recommendations on how to best customize your workstations. The customization options that we offer include, but are not limited to:
Sizes and configurations
Panel and work surface heights and materials
Storage options
Fabric and trim colors
Additional Services from ROSI
At ROSI, we pride ourselves on serving as our clients' one-stop shop. For example, we provide comprehensive space-planning services that include photorealistic renderings with any cubicle purchase, helping our clients maximize the efficiency of their floorplans. We'll also deliver and install your cubicles, as well as provide any additional setup that you require.
Contact ROSI Office Systems Inc. today to learn more about the workstations that we provide to businesses in Houston, TX.