ROSI Office Systems Inc. is the Premier Provider of Contemporary Workstations in Austin, TX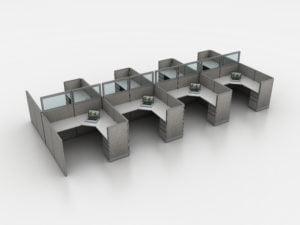 For many businesses in Austin, Texas, contemporary workstations are the ideal workspace solution. They provide plenty of space and privacy, allowing employees to remain productive while still making it convenient for them to communicate with colleagues. However, unlike with individual, closed-off offices, workstations maximize floorplan efficiency, allowing for a high density of employees per square foot of space.
ROSI Office Systems Inc. is proud to offer our own lines of cubicles including:
Synergy – We manufacture these brand new cubicles ourselves. They are made from only the finest materials to ensure long-lasting performance. And, they have a beautiful, sleek appearance that will go a long way toward modernizing the aesthetic of any office space.
REcube – These cubicles are remanufactured in-house from the steel frames of preowned Haworth cubicles. By replacing nearly every component, we create cubicles that look and function as if they just rolled off the factory floor. But, you'll receive savings of up to 30 to 50 percent.
To ensure our clients receive an incredible value for their investments in contemporary workstations, ROSI also offers a variety of customization options. For example, you can tailor the look of your new cubicles to meet your business' branding by choosing from a wide variety of fabric, trim, and work surface colors. And, of course, you'll also get to select from many different sizes, panel heights, storage options, and more to suit your employees' needs.
Learn more about the contemporary workstations that ROSI Office Systems Inc. provides to businesses in Austin, TX, by contacting us today. When you do, also ask about our complimentary space-planning services, which can help you make the most out of your office's floorplan.