Affordable, High Quality Used Office Furniture Houston Solutions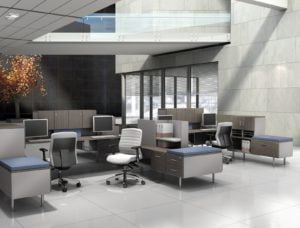 Looking for office furniture in Houston but concerned about how much it's going to cost? You're not alone. Office furniture is a big investment, and it can be tough to find what you need without going over budget.
That's where used office furniture Houston comes in.
"Used furniture Houston?" you may be thinking. "Isn't used furniture scratched, messed up, or probably damaged in some way?" While that's often the case on Craigslist or at Goodwill, ROSI Office Systems prides itself on offering high quality used office furniture that looks amazing. With ROSI, you never have to sacrifice looks and functionality for used office furniture Houston.
Many businesses in Houston, Texas, think that having affordable office furniture means sacrificing quality and aesthetic appeal. This assumption may stem from the fact that businesses will often opt for pre-owned furniture to save money, which often does offer subpar looks and functionality. However, there are ways to save a significant amount of money without buying used. Simply look to ROSI Office Systems Inc.'s furniture selection as proof.
Our used furniture is hand selected by our staff and run through our comprehensive quality check to make sure it's beautiful and in good working order.
With ROSI Office Systems, purchasing affordable used office furniture in Houston never comes at the expense of quality. Contact us today at 832-856-7532 to learn what we can do for your Houston business.

---
Benefits of Choosing ROSI Used Office Furniture
Buying used office furniture from ROSI is the best choice for your business. That's because, unlike many other companies that offer refurbished products, which may have undergone nothing more than a simple cleaning, we offer office furniture that has been completely remanufactured, resulting in heavily discounted furniture that looks and functions like they just rolled off the factory floor.
With ROSI, you never have to sacrifice quality for a lower price.
Our In-House Remanufacturing Process
To provide such an incredible value for our customers, we've developed an in-house remanufacturing process. It involves sourcing used Haworth cubicles and stripping them down to the frames. Then, we completely rebuild them with new panels, work surfaces, fabric, trim, and other components.
The result is our own line of workstations call REcube, which work and perform like brand new furniture,but cost 30 to 50 percent less. And, perhaps best of all, these workstations are built to order, meaning they can be customized to meet the unique demands of your business. You have a wide variety of options to choose from, including cubicle sizes, panel heights, fabric colors, and more.

---
Why People Choose ROSI Office Systems for Used Office Furniture
At ROSI Office Systems, used office furniture Houston is our specialty. Since 1993 we have been helping businesses all over Houston get high quality, beautiful, affordable office furniture. No longer is premium office furniture in Houston out of reach. All of our office furniture is reasonably and fairly priced, making it affordable for both large companies and small businesses alike. And we don't sacrifice on quality either. All of our office furniture is made with the highest quality materials and expert craftsmanship.
Best of all, ROSI Office Systems doesn't just sell furniture. We go above and beyond with our complete workspace solution consultants. No matter what your needs, at ROSI Office Systems, we walk you through the entire furniture buying process. We truly become your workspace consultants. From deciding on what you need and buying pieces, to scheduling delivery and placement, we walk you through every single step of the process to ensure you're 100% satisfied.
Here's what you get when you choose ROSI:
An Exceptional Selection of Office Furniture Houston
Our premium selection of office furniture Houston includes seating, desks, workstations, case goods, and more. Plus, they're all from trusted manufacturers like Mayline, Cherryman, and Global Office Furniture. Best of all, it's all affordable!
Comprehensive Workspace Solutions
Unlike other cookie-cutter companies, we are proud to offer custom solutions. We work side by side with you as your workspace consultants, helping you meet your team's specific needs while staying under budget.
Complimentary Services
What makes us different? We go beyond selling furniture and assist you with space-planning (which includes 2D, 3D and photorealistic renderings) to maximize the efficiency of your floor plan. We save you the hassle of having to work with multiple companies. We also offer complimentary assistance with delivery, data cabling, and installation to further reduce your costs.
Excellent Customer Service
At ROSI Office Systems, our business is your business. We want to help you get the furniture you need to make your workplace work better. Our team is friendly, knowledgeable, and highly experienced helping clients from a variety of industries and business sizes. Plus, you'll always get timely, fast service from us, ensuring your furniture arrives when you need it.